I've skipped a couple of days updates as I finally made it down to London to see some of the games. While I was there I had the pleasure of meeting some of our ex-Olympians among other ex-swimmers and current coaches and support staff. Obviously the disappointing medal tally and lack of great individual performances (one or two aside) were topics of conversation. Friends, too, have asked where it went wrong for Team GB's swimmers, and what to do about it.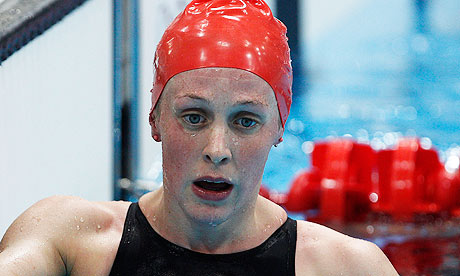 I'm going to try to address these questions, but to do so fully at this stage would have required me to have been with the team in the lead up to, and during, the Olympic games. Failing that, being given the opportunity to do a full review with the team would help. So I'm left with partial evidence from watching the swimming on TV, reading tweets and reports from the Games and, of course my experience as a psychologist and organisational change manager (for I think that, for the team to be pretty consistently, albeit only marginally, below their best there must be a cultural element).
Before I do this, let's just remind ourselves that Team GB haven't swum badly this week. They just didn't set the pool on fire. Unfortunately, to hit or exceed their medal target that's pretty much what they needed to do, such was the quality of competition. We saw some very brave performances and a great deal of effort. We did show signs of progress, at least if our measure is the number of finalists. For some in the team, making a final was a real achievement and let's not forget that. But for others it really was about medals, and for some it really was about the colour.  The elephant in the room was the pressure of performing at home, which seemed to turn into home disadvantage for Team GB's swimmers.
Home Disadvantage?
In my daily updates I'd already mentioned that research has shown that home advantage can turn into home disadvantage at crunch moments. Olympic swimming finals are definitely crunch moments. Unlike many sports, there is no room for error. You can't recover from a bad start or turn at this level. Not if you are in the hunt for medals rather than being 'nailed on' for gold. But then wasn't Michael Phelps nailed on for gold in the 200 fly?
Performing under pressure
There's no doubt that the intensity of the crown's support, as it was in London (I couldn't believe, when I was actually there, the noise for the heats. The finals must have been crazy.) can be a source of support. It doesn't have to be. It seems to lift some people. Others wilt. Others stand up to it, they cope, but that's not ideal for optimal performance. I think that most of our swimmers were in the 'coping' camp. Michael Jamieson was the obvious exception to that. He looked like he genuinely enjoyed it. I looked on as others (it's not fair to name names here), that I thought were 'racers', showed the pressure.
We've got to learn to love performing under pressure
Sport psychology tends to emphasise coping. In swimming I don't think that's enough. The water is unforgiving. It's not our natural environment. A hint of tension is all it takes to take the shine off a performance. To be fair, I think that British Swimming knew that already, which is one of the reasons behind the 'Duel in the Pool' meets. It's no surprise that the Americans excel at the Olympics. The collegiate system is all about racing. It nurtures and rewards racers. These guys love it more than we do.
You can choose to love racing, to love the intensity of competition. It's not something you can just switch on, but you can literally 'cultivate' a performance mindset. I buy fully into the process over outcomes idea. But I think that one of the elements of the process needs to be having an attitude to race hard, to hunt down the places. What's the difference? I think the difference is between sensing and responding to a personal challenge, and feeling that the place has a higher meaning (success/failure, threat to identify etc). It's subtle, but it's there. It's not about what you're focused on but what it means.
We did best when expectations were lower
 Jamieson, David Carry making the final of a stacked 400m when he'd only qualified for the games at the second attempt. Craig Benson doing a PB in the 100 breast at 18. Examples of swimmers that outperformed expectations. That's consistent with the aforementioned research, that suggests that they could enjoy home advantage. Expectations bring pressure. Bring in the intensity of the crowd and those nerves are amplified. Of course, we don't have to take on that pressure, to internalise it. That comes back to the previous point. We need to learn to love it.
We've got to swim for ourselves
The home games were a potential trap. Performing for your team-mates, for friends, for family, for the entire nation – is potentially dangerous.  Again, it's a source of pressure. As an elite athlete, all you really need to be able to do is look yourself in the mirror and know that you've done the best that you possibly could. You might acknowledge the crowd, the public, your family but what I saw in a number of emotional interviews was a swimmer who felt that they'd let people down. That's a sign that they'd fallen into the trap of swimming for other people, rather for themselves. That might sound selfish, but I think you have to be a little selfish to be an elite athlete in an individual sport. There's a time and a place for being a good team mate, but when it comes to competition time you need to focus on yourself.
Keeping consistency
This point might seem paradoxical. I think that Team GB's swimmers need to treat the London Olympics as if it were just another meet. But it isn't. That's the paradox. There will never be another meet like it for British Swimmers. (I don't think that means we sweep it under the carpet, because all it has done is magnify potential issues that we may have). But if you can't really predict the atmosphere, and certainly can't recreate it in practice, what do you do? If you take it off the table, make it a less important factor then perhaps (unless you learn to love it) that's maybe the best that you can do.
Lessons from other sports
Why have swimming not performed like the cyclists, the rowers, or even (after our first night of finals on the track) our track & field athletes (as a sport, one of our perennial underachievers, it might be argued).
Setting the tone – Psychological Momentum
First, looking at last night's Athletics, I'm not sure that we can learn all that much as a sport. Jessica Ennis put in a great personal performance under pressure, to bring home the gold. I think that Greg Rutherford benefitted from being in between Ennis and Mo Farah, slipping in 'under the radar' as it were. (Not that it takes anything from his achievement). Had Ennis not won, I think that Mo Farah would have been under more pressure (though hopefully would still have delivered).
Similarly, if Hannah Miley had won a medal it might have set the tone for the swimmers and taken some pressure off. Likewise, if Mark Cavendish had won Team GB's first gold medal on day one, Hanny Miley might have performed differently. Ifs and buts. None of this speculation changes the reality, but psychological momentum is a genuine phenomenon. Remember, it took a few days for us to get our fist gold medal and only a few days ago, the Sun newspaper ran the headline, "Wanted Gold Medal… please can we have just one gold. Any sport. We're not bothered."
The Cycling Machine
Cycling is the role model for all of our sports. Of that there is no doubt. I agree with Becky Adlington that some of our more successful sports are also more shallow sports in terms of competition, but whether that is true or not (maybe we all just think our own sport is special) Cycling have set out to, and succeeded in, creating the ultimate performance organisation. The strategy, planning, and attention to detail helps to create a collective belief that seems to transcend the individual riders. New athletes come into the team (OK, so not many have left and that will be interesting) and appear to fit in seamlessly. That's a performance culture. The confidence that brings creates a level of protection from the expectations and pressure that mean that the athletes can genuinely enjoy the experience. Which, of course, going back to the start of this (now lengthly – sorry) post creates a virtuous cycle.
Rowing – Only Gold is Good Enough
I know that this isn't true of all boats in the squad, but I like the honesty of the crews that didn't get what they expected and were unafraid to express their disappointment. The message is that "we're here to deliver". This is about personal responsibility. A few people have said to me that they wanted to see more disappointment from our swimmers; that there was a sense that they were happy with their lot. I don't think that's true. I think (I don't know for sure) that there was quite a bit of sticking to the script in post race interviews. I can understand why that might be the case – trying, perhaps, to keep an upbeat mood in the team. But who's script was it? I think that later in the week there was more honesty, but who says that if someone says "I'm not happy with that, it wasn't good enough" that it would 'infect' the team?
One thing that's certainly true about rowing is that in most events the responsibility is shared. That does make it easier. In swimming (just as in athletics, it has to be said) it is down to you. But sometimes it is easier to work as a team than as an individual.
An intense learning experience?
So there are my ramblings. I'm not close enough to the team to really know what happened this week. I have to mix speculation with the limited evidence that I have and my professional experience. I wonder what will happen following these Olympics for British Swimming. There may be a reduction in funding. That might not be a terrible thing. That might focus us more on creating the culture and ethos than on the technical support. It might mean that there is real change. We'll see. The London 2012 Olympic experience will never be repeated for our swimmers. In that sense it might be treated as anomaly. I hope that it's treated as a unique experience to learn something about our national swimming programme, with the harsh spotlight of the home games highlighting thing that we might not have otherwise learned.